A LIFETIME OF SERVICE
Multi-generational family owned business
KINGSTON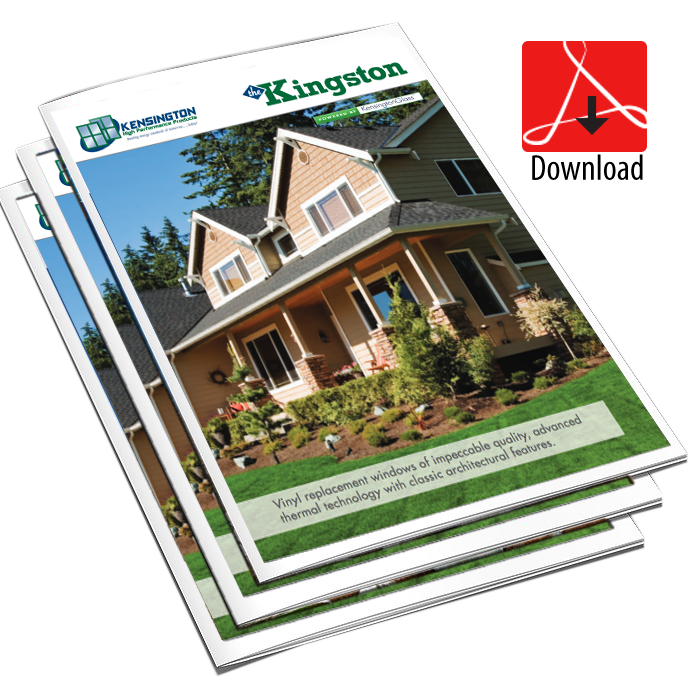 The Kingston Line of high performance vinyl windows and patio doors provide the strength, thermal performance, beauty, and maintenance-free qualities that will make your lifestyle more comfortable.
Powered by Kensington Glass, our Kingston Line of beautiful vinyl windows and patio doors can be a low cost way to increase your indoor comfort and contribute to improved home energy performance. The Kingston replacement windows will lower your energy usage, and you'll feel it in your wallet, each month when your lower energy bill arrives.
Our virtually maintenance-free vinyl windows can enhance the overall appearance of your home. Youll appreciate the beauty of your windows and their easy-to-care-for qualities. If the vinyl frames get dirty, they clean simply with a wash of soap and water.
Benefits
R-3.8 full-frame double hung windows
Improved comfort with less draft in winter and reduced solar heat in the summer
Improved home energy efficiency
Contemporary frame for added curb appeal
Reduced condensation
UV protection to reduce fading
Reduced air and water infiltration
Foam-filled frame
---
Standard Finishes
Frame Color Colors are only white or Almond for all window styles
---
Quantum2 Exterior Finishes
With the Quantum2 exterior coating system from AquaSure Tech, you can choose from one of our 6 standard colors and any custom color to suit your taste. With an indusrty leading 20 year warranty on our exterior applied finishes, you can be assured that your finishes will look great for years to come!
---
Quantum2 Custom Colors
Your imagination is the only barrier to the dream of the perfect color. Create one of your own or pick from any color paint today. We computerize match your custom color and bond that color to the window exterior with a highly UV resistant personalization to your Quantum2 window.
Go Back
Available Styles
---
Double Hung Windows
Sashes can move up and down and tilt in for easy cleaning inside your home
Casement Windows
Effortless operation and smooth gliding hardware, an be used standalone or the building blocks for Bow and Bay windows
Awning and Hopper Windows
Aesthetically appealing hopper or awning windows, swing open easily for a lifetime of effortless operation
Slider Windows
2- or 3-lite sliding windows are easy to operate and provide a wide-open expansive view with no horizontal obstructions
Sliding and Swing Patio Doors
Patio doors add beauty and light to your home while increasing efficiency and value
Bay and Bow Windows
Crafted to your exact specification, create a dramatic look inside and outside
Half Circle and Arch Windows
Dramatic shapes enhance your homes architecture and provide endless creativity options
Custom Geometric Windows
Add character to your home and accentuate other window styles
Warranty & Care
---
Kensington HPP offers a Full Limited Lifetime Warranty for all of our Kensington Windows residential products for as long as you own and reside in your home. We promise to repair or replace any defective residential product without hassle.

Transferable to Future Property Owners! What a great selling feature, if you ever decide to sell your house. A Limited Lifetime Warranty on all of your Kensington HPP windows. Thats right. You actually increase the value of your home when you replace your windows with Kensington HPP.

For as long as you own your property, we warranty our windows to be free from defects in material and workmanship. Imagine you never have to worry about your windows again!